Scraping food remnants and throwing them manually into your garbage these days? It's a big no-no. Heard this cool thing named garbage disposal? This amazing machine allows you not to become fussy whenever dishwashing time comes due to those food remnants.
Turn on the switch. The machine will be ready to 'chew' off the food residue. However, due to its intense workload, how long does garbage disposals last? The article below will answer your queries related to that question.
How Long Does Garbage Disposals Last?
With the unit price ranging from $85 to $200, plus the installation costs that take another $80 to $200 (depending on what kind of worker you hire), everyone who uses garbage disposals will hope the machine to be long-lasting.
Read also: How to Fix a Garbage Disposal Leak.
How long do garbage disposals last? Luckily, it comes up with life expectancy of 8 to 15 years.
However, will it work as long as you and other users ever want? That'll depend on your personal use. In most cases, garbage disposals work nicely for up to 10 years. Afterward, the machine will be easily clogged and slightly showing decreasing performance.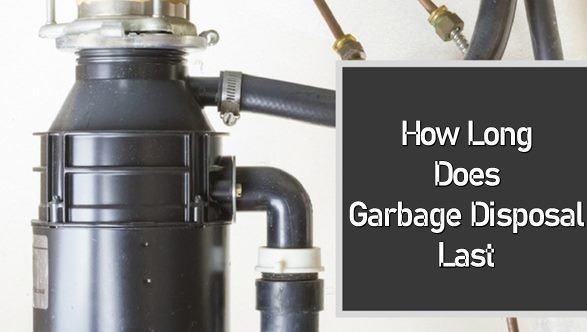 So, if you ask," How long should my garbage disposal last?", the best answer will be 15 years. But, even for 10 years, it is considered long-lasting enough.
How Long Do InSinkErator Garbage Disposals Last
InSinkErator, one of the leading manufacturers of garbage disposals, has a higher life expectancy than any garbage disposals. Its garbage disposals can last for over ten years and even fifteen years without any replacement.
But still, you will need some minor maintenance and repairs. Moreover, InSinkErator's warranty is one of the longest in the industry. So, you can rely on it.
Read also: How to Unclog a Garbage Disposal
How to keep your garbage disposals work best? Below are some tricks to extend your garbage disposal's unit life.
Cleaning it regularly
As a disposal machine, it's no wonder that many inputs – all are remnants – come through its propellers. Despite being flushed with constant water flow, the propellers should be cleaned properly since any residue may block the machine from working properly.
To do that, flowing a bit of soap onto the disposal under the running water should help to clean it. Others even use ground iced vinegar cubes to keep the propellers clean; or putting the deodorizer baking soda. That'll help to remove the foul smell, too.
Avoid putting these into the machine
This can be the best trick to prolong your garbage disposal's unit life expectancy. Don't put non-food things on the disposal, such as metal, paper, plastic, glass, and even trivial things like cigarette butts and strings.
Grease, oil, and bones should also be limited from going through the machine. Frequent hard things misplacement into the machine may have an impact on garbage disposals.
How to Tell if Garbage Disposal is Bad
As your machine ages, you may encounter small machine breakdowns. How to tell if a garbage disposal is bad? Below are five signs that you may need to place a new investment for garbage disposal.
Peculiar noises coming from the machine.
The machine won't turn on, even after several trials.
The obnoxious smell from the machine, won't go away even after a thorough rinse.
Water leaks usually occur on the bottom part of the garbage disposal.
Too frequently pressing the reset button as a result of the broken function of the garbage disposal.
Those five 'symptoms' above can be an answer to your question 'how to tell if a garbage disposal is bad'. In some cases, you can still hire a service member or do a self-fixing. But, if the symptoms persist, no need to count how long does garbage disposals last – your machine needs a new replacement.
Buying garbage disposal from a trustworthy manufacturer will help you to avoid short-living disposal machines. So, you will have a longer time to prepare for a new replacement.