The water heater is one of the most common appliances installed in residential buildings these days because who doesn't love warm baths after a long, exhausting day at work?
That's why you'll need a water heater at home. However, you may stumble across confusion while choosing the device. For your information, the Rheem Power Vent water heater is the one you should consider.
Know how this product's specification, how to use, and how to troubleshoot any problem related to this reliable water heater through this article below.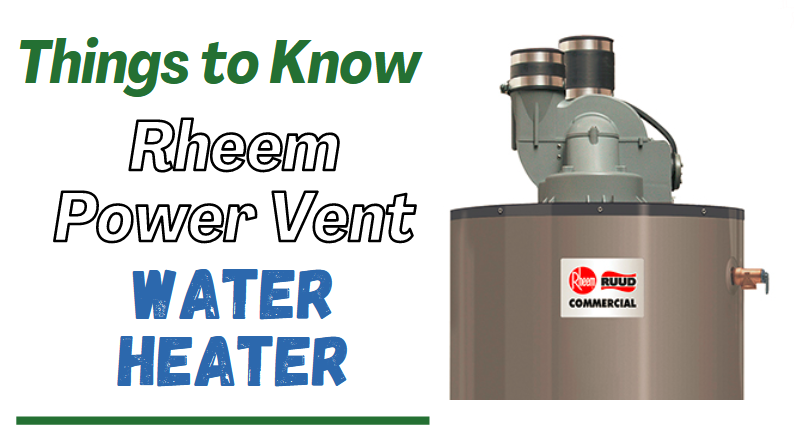 Rheem Power Vent Water Heater
When talking about an appliance, then talking about its specification is a must. Rheem Power Vent water heater comes with a specification that can be why it comes as the most trustworthy water heater.
Dimension
Rheem Power Vent water heater comes 58 inches in height and 21.75 inches for the 50-gallon water heater's depth and width. As for the 40-gallon water tank, the size is slightly smaller. This 40-50 gallon water tank is perfect if you live with other 2 persons in a household.
Capacity
As mentioned previously, the power vent water heater comes in two choices: 40 and 50 gallons. Its FHR (First Hour Rating) for each capacity is up to 71 and 87 gallons, respectively. FHR is the number of water that can be heated up and supplied by the water heater on an hourly basis.
Installation
The Rheem Power Vent water heater is installed indoors. But, no need to worry about its exhaust gases, as it is equipped with flexible venting options. The pipe can extends up to 100 feet long and is made of PVC, CPVC, or ABS vent pipe.
Upsides
Here are the updates :
The water heater uses a quiet blower. So you don't have to worry about the buzzing sound it may come up with. Also, it's designed with an eco-friendly burner that uses indoor air for its combustion. It has low NOx emissions as a result.
Longer tank life warranty as it uses patented magnesium anode rod design. No need to worry about corrosion and rust inside the tank.
The water heater got no filter – hence it is maintenance-free, and no need to clean one.
The burner system can shut down the heater once there's the presence of flammable gases.
Rheem Power Vent Water Heater Troubleshooting
Troubleshooting the water heater will require you to note the 'symptom' first. Once you note the problem, instead of calling for service, you can read the manual first.
Problems like rumbling noises, no hot water, too hot water, etc., are already covered in the manual so that you can read it. Some possible causes will also be listed so you can refer to any appropriate troubleshooting tricks.
Read also: Solution For Water Heater Making Noise and What caused it
Rheem Power Vent Water Heater Manual
Every unit purchase will be equipped with a user's manual. It will help if you read this before using the water heater. The manual will have the troubleshooting tips you can follow before calling the serviceman – hence you can save money.
In common, the user's manual will include safety information, installation instructions, operating instructions, care and cleaning (maintaining the unit), troubleshooting tips, and customer service.
Although the provider may install the unit for you after the purchase, you should read the manual to understand better how the water heater works.
How to Reset a Rheem Power Vent Water Heater
Resetting the Rheem Power Vent water heater is relatively easy. Here are the steps:
Make sure the water heater isn't connected to any electrical resources. This would mean you need to turn off the main circuit breaker for the water heater.
With a matching screwdriver, open up the wiring cover of the unit. There you'll see many wiring with many different colors.
You will see a little dot in the upper center part of the pane. 'Reset' is written on it. When there's nothing wrong, normally, the reset button should not be popped out.
Ensure that there's no electrical current. To reset it, use a little screwdriver, then push in that popped out, small reset button.
After that, cover the pane again, turn on the breaker and see if the case has been solved.
Rheem Power Vent water heater reset button in a water heater will usually be popped out once there's something wrong with the system. Overheating is one of the most common problems.
That's the information related to the Rheem Power Vent water heater. So, are you interested in this product? Rheem has been known for a long as one of the best water heater providers. Therefore, its product must be high quality.